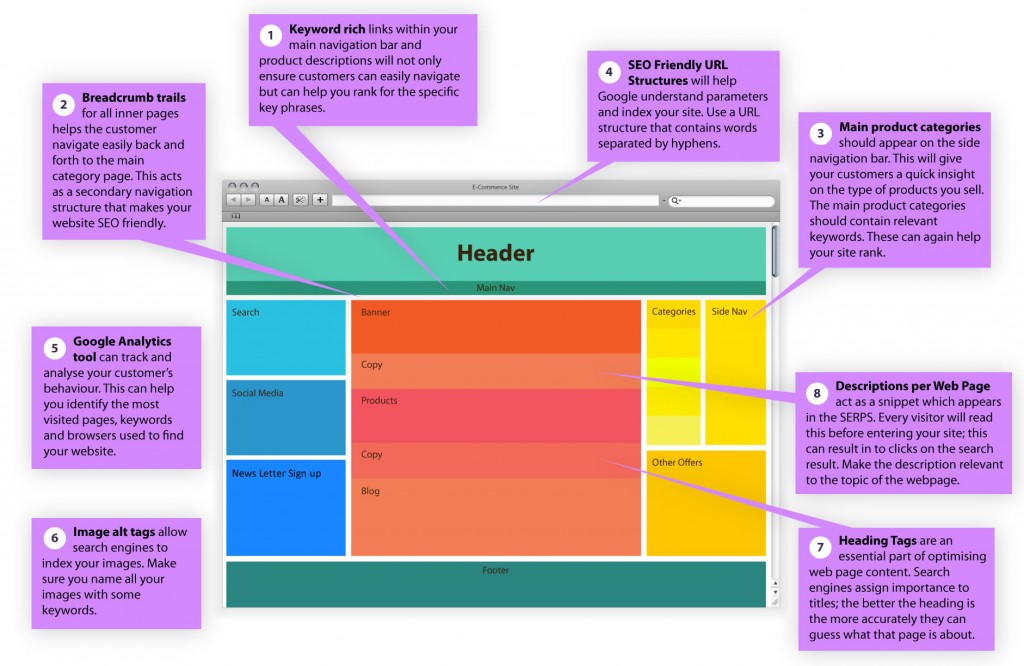 Building a new website is an important milestone for a business. It is a first point of interaction for prospective customers online and, therefore, you can say that it is a lucrative marketing tool that can bring you leads and sales. So, beyond its aesthetic aspects, there are many other factors you need to consider while designing a new website. Some of them include its ease-of-navigation, user-friendliness, responsiveness and page load speed. However, the most important thing is to determine whether your web design is search engine friendly or not. Yes. It's true! A website layout can greatly affect your search engine rankings. From SEO point of view, Your website should be easily crawled and indexed by Google robot's  if you want to rank higher in SERPs (Search Engine Results Pages). And, for this you need to keep certain things in mind. Let's see what they are:
Responsive Web Design

: According to Google, building a responsive website is the industry's best practice. This means even if you have a mobile version of your website, it may end up being ranked lower than that of a responsive website. A responsive design optimizes the experience of users who access the websites from multiple devices such as laptops, desktops, smartphones and tablets. Since everything – from images to content – can be viewed perfectly on a responsive website, more and more people would like to visit your site. This will not only bring in high traffic, but it would be referred by search engines as well. For example, if Google finds that your site has a very low bounce rate with mobile users, your website may be ranked higher with mobile searches.
Check out these 3 Tips for Designing Mobile-Optimized Sites that Convert
SEO Friendly Navigation

: The website navigation is another important factor that could affect the search engine rankings. Therefore, it's crucial to design a sitemap that can make your website pages easier to be crawled and indexed by search engine robots. Not only it optimizes your site for search engines, but from the user's point of view as well, it is a very good practice to keep web pages easily navigable. The web design should let them easily go through each and every page of your website which aids in increased traffic and higher rankings. Flash or the JavaScript navigations can harm the SEO of your website and therefore, this should be less preferred or eliminated. These technologies, though entice users very quickly, but search spiders don't recognize them easily. Similarly, fixed navigation and off-screen navigation also hurt SEO and directly impact page ranking. So, it should be avoided.
Proper HTML Coding

: The HTML code of your website needs to be optimized as well for better rankings on Google. Word processors usually have a way to generate HTML documents which can be easily uploaded to a site via FTP (File Transfer Protocol). However, if search engine robots find that the lines of coding does not relate to the content being advertised, it can adversely affect the ranking of your website. The websites that have efficiently written, clean code are more likely to be ranked higher in SERPs. That's the reason why using CSS for styling the pages has become an industry norm because it can drastically reduce the amount of text formatting in HTML code. Websites with too much hyperlinks, bold or italicized text, improper use of alt, heading, or meta tags can rank lower in SERPs.
Know Why professional company does not like to use template to create website?
Only Graphics-Based Websites may not work

: While this can't be denied that the graphics-based web design offers the visitors a more aesthetically-pleasing experience, they are the most difficult to optimize. Since search engines cannot read text within animations or graphics other than those few letters you have added in the ALT tag, it will not result in top rankings. However, if you really wish to offer a graphics-heavy or Flash website to the visitors, make an HTML-based site also available to them. This site will not only rank better in search engines, but it will be much easier to promote online. Moreover, those visitors whose browsers don't support flash can also jump over to the HTML site to access its contents easily.
Size Matters a Lot

: The size of website matters, and this is the reason why single page website design is consistently killing SEO. Search engines love content, but with these sites, you are not able to write more content and you can't focus on more than 2-3 keywords. So, if you have a one page website or only a few pages, it may be difficult for you to rank on Google. Especially, if you have a larger product/service portfolio, one page website may not be a viable option for you. A larger website has a lot of web pages and content that you can promote online for driving traffic and optimizing search engine rankings with SEO.
Dynamic Web Pages

: If a website's information keeps on changing because it is generated by a large database such as that of a large book dealer with stock, you may realize that some of those pages do not get indexed by major search engines like Google. The URLs of these pages are usually extremely long and have characters such as #,?, %, &,  or = along with numerous random numbers or letters. Since these pages are automatically generated by the database, it's hard for search engines to keep them up to date and relevant for users. This problem can be resolved by creating a search engine friendly sitemap listing all your static pages. This indicates that you have a permanent content on your website too.
Have a look at these 10 easy ways to outrank your competitors on Google Singapore
The Bottom Line
While all the above mentioned tips will help you ensure that your web design is optimized for search engines, your ultimate goal should be to enhance user experience. Make your website a place people would love to visit again and again. Deliver an amazing experience to them and leave the rest to Google.