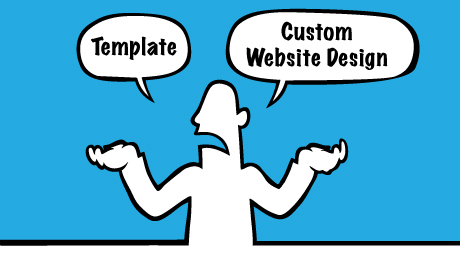 These days, you might be coming across several articles bringing your attention towards the topic that web design is dead. Is it really? Actually, not! A custom web design may be losing its traction in the industry to some extent, but this doesn't mean there is nothing one can do to restore its importance.  According to UX Magazine, high quality templates, automation, mature design patterns, AI, and mobile technology are leading us to the end of web design. Many people now think that with templates, they get more for less, but the reality is a bit different.
These stock designs or templates are sometimes full of UX blunders and other errors that make the things even more tricky and complicated. Many people go for it because it is a cheaper option than hiring a custom web design agency, but eventually they realize that sometimes "you don't get what you expect". There are many other factors signalling the end of web design. Let's see what are they:
Visitors Don't Care about Custom: According to Hubspot survey in 2011, 76% of users said that website makes it easy for them to find what they want and this is the most important factor in the design of a website for them. Only 10% of users said that beautiful aesthetics make sense for them. So, actually, today website users don't care about custom. For them, functionality and information is all that matters. A simple and readable site that delivers appropriate information is all they want. Every website, be it custom or template, needs to go through several stages of testing. So, why to go for a custom one?
Cheaper Alternative: A custom web design is always an expensive option than stock themes. Since functionality is more important than form factor, businesses prefer to invest more on creating appealing content than on improving the aesthetics of the website. That is why they go for stock templates that provide all the basic to advanced functionality with plugins at quite affordable prices. It also saves time on multiple design revisions and approvals.
Easy Customization: There are hundreds of website builders available today with powerful tools that let you create simple websites. These platforms can be as simple as drag and drop or these could be the templates with predefined coded layouts. So, if you have your own idea and want to put that into reality, you can create your own custom website with these website builders. This is one of the major factors that are putting a full stop on outsourcing web design.
Get to Know these 7 Hot Web Design Trends Dominating 2015
Now, the question arises, what an you do to keep web design alive? Well, templates can be a good alternative for those who don't wish to spend much and want a website with just basic functionality, but if you really want to give a personalized experience to your customers, templates may not work always. Stock themes have some holes and by identifying and fixing those holes, we can keep web design alive. Let's have a look at some of these holes:
Customizable Templates aren't much flexible: Majority of website builders offers limited functionality. The creative options they offer include the ability to add your own text and images. The uniqueness of a website is not measured just by its colors, text and images. Your layout must also be unique and this is what differentiates your brand from others. Many companies offer website templates that have identical structure  So, ultimately you'll need to hire a web design agency that could help you change the layout and make it look original.
They are Popular and Easily Recognizable: You might have seen several templates boasting of more than 200,000 downloads. This implies that some templates that are beautiful and functional are popular among many and your visitors can easily recognize that similarity. Therefore, standing out of the crowd remains a challenge in this case. Websites templates suggest lack of creativity and non-seriousness towards your brand. Picking any random design is not an ambitious step.
Low Quality Code: The stock website templates may look impressive, but actually many of these are very badly coded. If you hire a developer to customize its layout to make it original, he/she would tell you that it's more difficult to understand and modify these templates rather than write their own code from scratch. This can be very time-consuming for your developer and it may potentially result in project delays. It can even overrun your budget, eventually costing you even more than a custom web design.
Unnecessary Features: Since stock templates are mass-produced to sell to a wide range of customers, they pack lots of options which may be irrelevant to you and your business requirements. These unnecessary features may not even be easily disabled, and often get in your way as you manage the website content. It can even slow down your website and affects its performance due to unnecessary code and extra plugins. With custom websites, you get admin interface that is simple and clean. It is well-optimized because it is designed while keeping your requirements and preferences in mind.
Outdated Technologies: Stock web templates may be using technologies that are outdated. Here, web design agencies give you an advantage as they house expert minds and use latest tools, libraries, techniques and methodologies to build custom website design that meets your requirements. These websites built on the latest platforms are even capable of adapting to the future growth requirements. The people who work in-house has the right expertise and experience to handle your projects. Moreover, if anything wrong happens in the future, or if you need to modify something, you can anytime turn to them which is certainly not possible in case of stock templates.
The Verdict
There are too many badly designed website experiences out there, and you won't believe, the majority of them are caused due to stock templates. While we can't deny the fact that these templates will never die and people would keep relying on them, even custom web designs won't see an end ever.