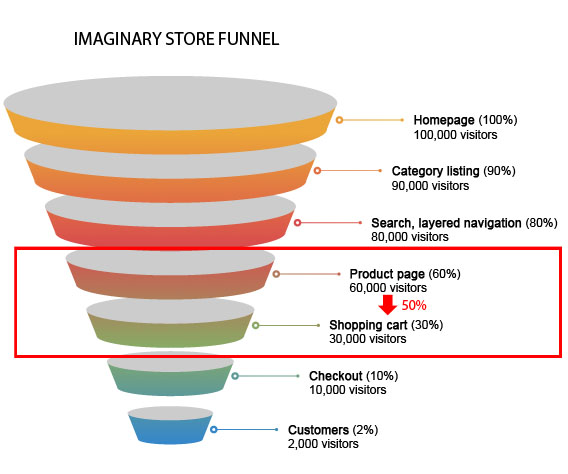 Online sales are the new trend and more and more people are attracted to online purchase these days than visiting physical stores. This is because the process of online shopping is much easier, time saving and less energy draining than the latter. As a way, retailers find it profoundly lucrative to use E-commerce sites for sales of their products and services. However, the biggest obstacle they often face is shopping cart abandonment.
Some publications of reports put forth by Web Strategies suggest that E-commerce has about 59% people who leave their carts after selecting items, which account to big loss for the retailers. It's because if customers would have bought those items placed in carts, then that would total up more profit. There are a few tactics to reduce cart abandonment rate, but how? Read on:
This article shows you 5 ways to minimize the amount of cart abandonment rate.
Sense of security: Give customers reasons why they should feel safe about buying from your store. Since its inception online purchase has been growing in abounds and there is no denying the fact that deluge of traffic to these stores have led to many such incidents where customers have felt insecure. As a customer, you have the options of using a credit card or debit card or cash on delivery to make purchases.When delivering information on your credit or debit cards you need to feel safe. In this regard online retailers should make SSL installation to make customers believe that their information is in safe place. If e-commerce owner want to same money, Paypal is one of the best online payment method to people. Besides, retailers should furnish their contact information so that customers do not leave their carts just because they cannot find retailer's contacts.
No display of shipping fees before checkout: Before customers checkout of your store, if they see shipping fees, then they might not want to go with the transaction further. The fees might be the barrier in the way of placing an order. Remember, many just visit online stores and use shopping carts to fetch shopping costs, since they are not eager to pay it. The pivotal reason for this is that shipping charges add to the toll of total cost for buying products from online. Therefore, what online retailers can do in this case?Well, they should allow customers to check the shipping cost in their box that will eventually  get added to their billing information. This helps for a more convenient checkout process.
Declare about stock availability status: E-commerce website pages should have a declaration about stock availability, for instance, if a page is full of stock then it should have 'in stock', a find where some stocks are yet to be filled further then that should be mentioned and pages that have items out of stock should also have that mentioned. Along with the site should mention the estimated delivery date by which customers can expect their products to arrive. This will bring desires in customers to place orders and do not abandon their carts.
Simple checkout process: The sites should show customers a progress indicator that will give them an idea about how long they will have to wait for purchase to get finished. For this, retailers should keep changing color options, removing items and also changing quantities.
Opt for up and cross sales: This means that the online retail pages should recommend for more add-on products, every time customers make it to the checkout page. If there is display of similar products like those in customers' carts, then that will spark interest in them to buy products in their cart and not abandon them.
Create product video: Consumers are 64 percent more likely to purchase a product after watching a product video. You can take product video and upload to YouTube, there are 2 reason, 1. more people watch YouTube, there is chance to get customer from there. 2. save your hosting space. Learn 7 New YouTube Features and How Marketers Can Leverage Them
Thus, following above methods will help in preventing customers leave their carts.