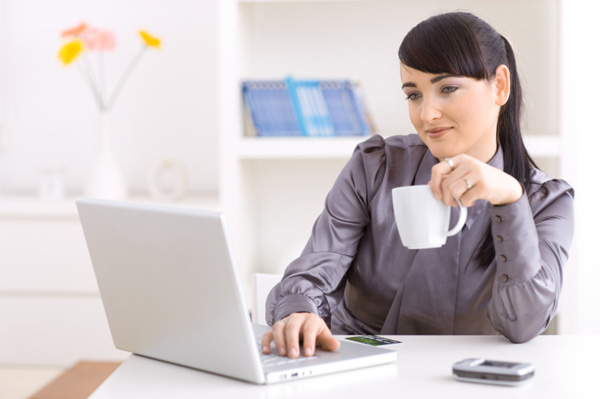 These days when the Internet industry is continuously booming and bringing more prospects for the people, dreaming of an own business and making thousands of dollars is no more a nightmare.  There are a lot of startups which are feeling the pinch of not having the financial resources to evolve their budding business. If you also belong to this group, the Internet is the only way through which you can earn abundant money by investing little efforts and little resources with the convenience of working at your own place.
Whether you are a marketing geek, a blogger or an IT Professional, whether you are a salaried worker or an unemployed individual, you can always head towards the Internet and try your luck. You too can become an online entrepreneur and all you need is the right knowledge and the right information on how to proceed with the process. Some of the ways by which you can earn money online are doing data entry jobs, writing, photography, voice-over, singing, designing, developing and more.
Let's have a look at how you can make even $100000 per month with little or no investment at all:
Building Apps

: Application development is quite in trend these days as more and more people are finding the apps usable and amazing. You can earn thousands of dollars by putting your application in Google Play Store or iTunes. You can even sell it to a company who is willing to give you heavy bucks for it. All you need to have is a coding knowledge that you can get online from several websites such as CodeAcademy. You can also take the help of a professional application development agency if training idea doesn't interest you. This way you can bring  huge dollars in your account by doing almost nothing.
Buying and Selling Domains

: Have you ever thought about dealing with domains? Yes, you have read it right!

Buying and selling domains

is one of the hottest business days. Do you have an interesting domain name in your mind? Then own it and sell it for huge money. There are many companies online that help you to put your domain on auction. While you can sell it for a fixed price as well, if you are not sure about the worth of your domain, auctioning it is a more viable option. So, if you are clever enough to understand the worth of every domain, this option is for you. You can literally make millions of dollars out of it.
Become an affiliate

: There are lots of individuals worldwide who are making over $1 Million per year doing affiliate marketing. It is actually a digital marketing practice in which a business pay incentives to its affiliates in the form of money who brought visitors or customers to its website. If you are an affiliate, you have to help a business promote its website/products/services on your own website, blog, social media accounts or other places. In return for that, you get a commission from that business when every visitor you send from your site makes a purchase. Affiliate marketing is one of the cheapest and quickest ways to make money as some programs allow affiliates to earn up to 75% commission as well. All you need to do is put some efforts to make others business grow.
Does web design layout affect SEO?
Blogging: If you have the skills of a compelling writer, you can become a great online blogger and earn huge money while sitting at home. You can create your own blog and earn $0.5 to $30 every day. If your blog receives a sufficient amount of traffic, you can earn even $100 to $500 per day with Google AdSense. There are many bloggers in USA who earn thousands of dollars every day from AdSense. There are many sites as well that pay you for making "Top 5" or "Top 10" lists such as ListVerse. Some pay $50 per list and some pay even $100 for one approved list of 1000 words or so. So, you can well imagine how much you'll be able to earn with 10-20 approved lists per day.
Designing WordPress Themes

: Many people are good at web designing. If you are also expert in HTML, CSS, Javascript, jQuery and other designing languages, then you can become a

WordPress theme designer

to earn huge money online. A theme can sell anywhere between $10 to $100. So, even if you design just fifty themes, you may make thousands of dollars. If you are working for a particular client and creating a customized theme for him, you can charge even more for your efforts. Some of the other sites on which you can sell your themes are TemplateMonster and ThemeForest. The pricing and templates depend upon on the rights and features that come with them.
Watch Out These Tips to Create a Perfect Logo Design for Your Business
Selling photos

: If you enjoy photography, you can try your luck in selling photos online. Many businesses need real photographs for their company branding and they would be willing to pay for your collection of images. Many stock photo agencies, such as Fotolia, Shutterstock and Dreamstime provide a convenient way to help you build a secondary income stream. They offer incentives to photographers who provide good contribution and sales to their site.
Virtual Assistant

: Some businesses need the assistance of a person who can help them run their processes, but are not willing to hire a full-time employee. As a virtual assistant, you can help those businesses by performing certain administrative tasks such as handle expense reimbursements, make travel reservations, or pay bills. The most exciting part of it is that you can do it from the comfort of your home and can serve as many companies as you want to earn
White the above mentioned are some of the ways by which you can earn money online, how much you can earn depends upon numerous factors such as industry you are in and the amount you can invest. But before you start, choose a niche you have expertise in. The more you are inclined towards one industry, the more are your chances to succeed in it.