Backlinks refer to links from one website to your own website, which are also known as the hyperlinks, inbound links, or incoming links. Backlinks are one of the most important factors in determining the ranks of your pages on search engines. Moreover, if the entire scenario is viewed on a large scale, links help in determining the manner in which these pages can be discovered.
Google depends on links for diverse reasons. This means that as a website user, you should put aside the concept of Search Engine Optimization as well as ranking for a moment, and understand that the World Wide Web has been so aptly named due to many reasons. There are a series of websites and pages that are connected with links, thereby forming a web-like structure. The links help in adding context, which permits "spiders" to crawl and discover the many other pages that can be discovered with the help of existing backlinks on your page.
The Number Of Backlinks That Is Required For Your Page
The number of backlinks that your page requires is dependent on what you are aiming to achieve, such as the rankings, the target number of visitors or the focus keywords. If you want to achieve more of these, it is obvious that you will need more backlinks. You can rank the website of your business with a moderate number of backlinks, but this is appropriate only if you have low or no competition keywords along with a low search volume, which, in turn, means that there will be low or moderate visitors on your website.
The backlinks that a particular page should have will be different for different businesses. However, even the small businesses should ensure that there are at least 50 backlinks of proper quality in order to have a head start with their Search Engine Optimization campaign. With fifty backlinks, you can expect rankings on the first page for around five keywords of medium competitiveness.
Variables That Should Be Considered When Assessing The Number Of Backlinks
It is not really wise to set targets for backlinks. Instead, the correct approach is to not set any target but build the links consistently naturally and steadily. The building of these links should be a continuous process without having any deadlines or targets on your mind. It may happen that you get the first rank in Google, but even then, you should ensure that you are building links constantly.
If you stop, you are giving an opportunity to your competitors to overtake you easily. There are a number of variables that should be considered before assessing the backlinks that are needed.
The Competition Level
The best way to find out how many backlinks are needed to rank on a search engine is to find out the competition for the keyword that you are using, and the backlinks that your competitors are using to get a good rank. It is your duty to add the links that point to the other pages which have received a ranking on the first page of Google.
You should ignore the web pages that have the least or the most backlinks, and then you have to divide the total sum by 8. You will get a rough estimate, but there is no guarantee that all these backlinks are of good quality. Nevertheless, if you have an equal number of quality backlinks, you can expect your website to get ranking as well.
Focus on the Quality of the Backlinks
One of the common mistakes is that most people focus on how many backlinks should be used instead of using quality backlinks. You should always remember that all the backlinks do not have an equal value. One backlink of a high quality is equal to hundred backlinks of low quality.
Thus, you should keep in mind that this is not just a game of numbers, but it is more about balancing the quality as well. The backlinks should be from relevant and trusted sources, related to the content, not reciprocal, and cannot be acquired easily.
On-site Optimization
If your website is well optimized, you will not need too many backlinks in comparison to a website that has poor optimization. In order to optimize the website properly, a number of steps have to be taken, which include:
● Positioning the important pages one click away from your homepage.
● Pages should not be located far away from your homepage.
● You should check for the broken links and ensure that you fix them.
● Try to add in-content links that are relevant and important for a particular page.
● Removing the outbound links that are unnecessary.
● Merge or remove the pages that do not have any useful content.
There are several other useful on-page optimization factors that marketers or website owner can use to optimize website pages to make it to the top in Google.
Methods of Getting Backlinks
Before knowing the number of backlinks that you should add on your page, you should have a proper knowledge about the ways in which you can acquire the backlinks.
● It is your duty to create content of high quality. Long-forms, infographics, white papers, blog posts, and landing pages are important and these help in creating fascinating content that is related to your industry. You should provide great and unique content so that your page starts ranking naturally on the search engines.
● You should try to establish a great rapport with any popular leader in your industry so that you can make many valuable connections and thereby promote the business. When you share content with influential people, there are chances of getting better opportunities for your business.
● Ensure that your blog is updated regularly, as Google prefers to see sites that are updated constantly and your readers are interested in your next posts as well. You should update the blog with unique contents, which can increase the chance of someone coming across something they like, and they can link to your page.
If you've a business and don't know how to create good links to your website to get found on Google then you should hire an search engine optimization company who can build quality backlinks for your website.
Conclusion
As mentioned above, concentrate on the quality of the backlinks instead of wasting time on quantity. If you have almost sixty backlinks on your page that have no relevance and are of poor quality, you are paving the way for your competitors to gain higher ranks.
If you want your website to gain a high rank in Google, you have to focus on the content and keep a close watch on your competitors as well. Ensure that you are using relevant keywords and backlinks of high quality to be on the first page of Google.
About Author: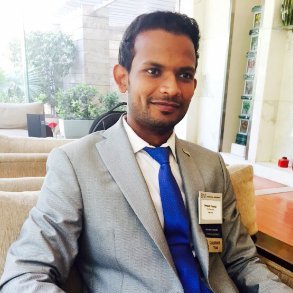 Deepak Chauhan is a digital marketing consultant and CEO of VOCSO, a creative digital agency based out of India, USA & UAE. The web business strategist, who has 12+ years of experience, has worked with many small businesses and startups across the globe to help them build successful websites/applications and launch them online with his strategic consulting. When not working, he enjoys traveling, photography and satisfying his taste buds.