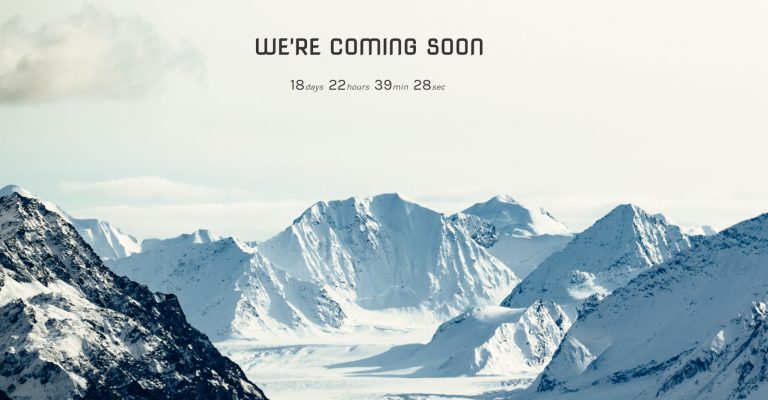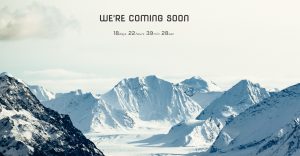 WordPress offers a simple and yet powerful content management system which is why so many people choose it to power their websites. With so much selection when it comes to WordPress plugins, knowing which ones to use can be problematic. Many of them offer limited functionality, and you install so many of them that it slows down your website. This is where the new Coming Soon PRO plugin offers a distinct advantage.
Coming Soon PRO plugin has many great features that make it a good all-rounder. Peter Mason, a web designer from EdugeeksClub, says "Instead of installing a number of different plugins to do different tasks, install this one and save yourself time and effort."
Despite the fact that it has a number of features, the plugin won't slow down your site in any way. It runs faster than many other WordPress themes and is carefully constructed using modern standards and the best coding practices.
This plugin is a small page builder that allows you to place essential items on a landing page under construction, such as your company name and a short description, a video, a free image, list-building features and social media pages.
Bloggers, business owners, marketers and others who want to create a sales page, landing page, coming soon page or under construction page will find it extremely useful. You don't have to touch any code, and everything is drag & drop based, so it is very user-friendly. In most cases, all you have to do is choose a theme and change some text.
Here are some of Coming Soon PRO plugin's interesting features.
More than 400 000 free high-resolution images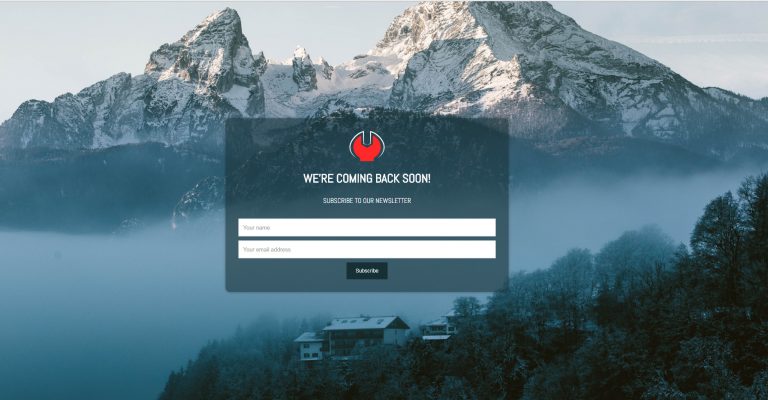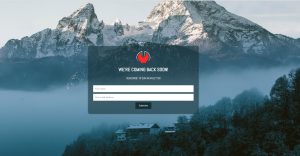 You no longer have to search all over for high-quality free images. Access 400,000 free hi-res images straight from the plugin's media library. Simply type in a search query and Coming Soon displays all your results. This library is powered by Unsplash.
A background image can make or break an entire page. You can choose a static image or an animated video. Select an image from the library or upload one of your own. Display the image in its original size or resize it. There are nine predefined background image positions and 27 Instagram-like filters you can use to create a unique effect.
Professional, customizable themes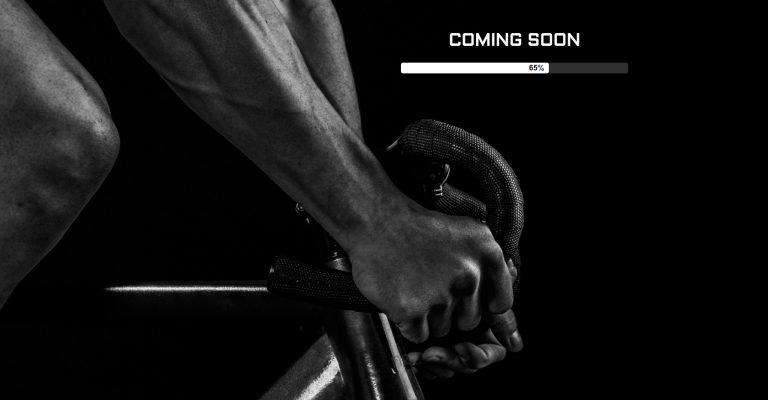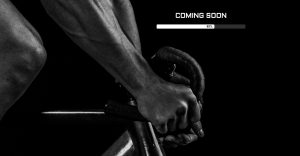 The plugin gives you access to many different themes. If you select the pro lifetime package, you have access to 20+ themes. With the unlimited lifetime license, you can choose from 50+ themes. New themes are continuously being added.
Select one that most suits your purpose and build a page in minutes. These themes are designed by professionals, and you can easily customize them to suit your brand.
Themes are created to suit many different types of enterprises, including coffee shops, flower shops, online learning, office, running, photography, shoe stores and much more. Preview all the themes and then simply activate the one you want from the plugin. Once it is activated, it can be modified and adjusted as it has no 'locked in' features.
Easy access for clients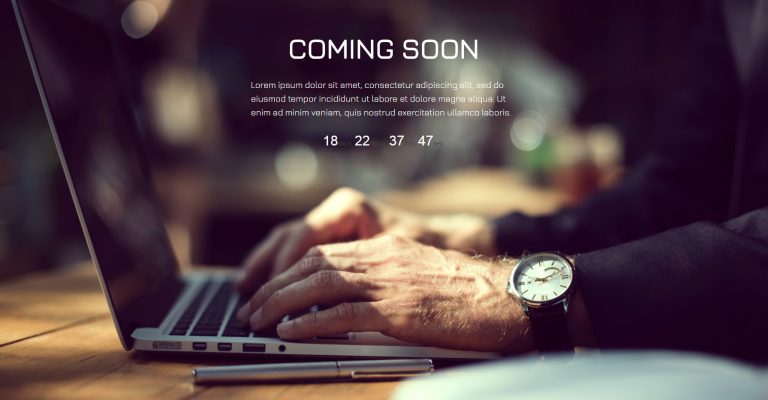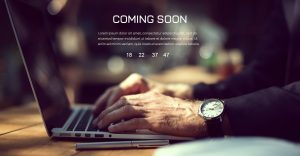 By default, enabling Coming Soon mode means that all site visitors except those who are logged in will see the Coming Soon page instead of the normal one. While you're working on a client's new site, you only want the client to see it. A Secret Access Link allows this. Clients can use this link to preview the website, and all other site visitors will only see the Coming Soon page and not the website.
A client's IP address can also be added to a whitelist. This means selected IPs are not affected by Coming Soon mode. You will need to let clients know that they won't get access if they change their IP addresses.
Great SEO Setup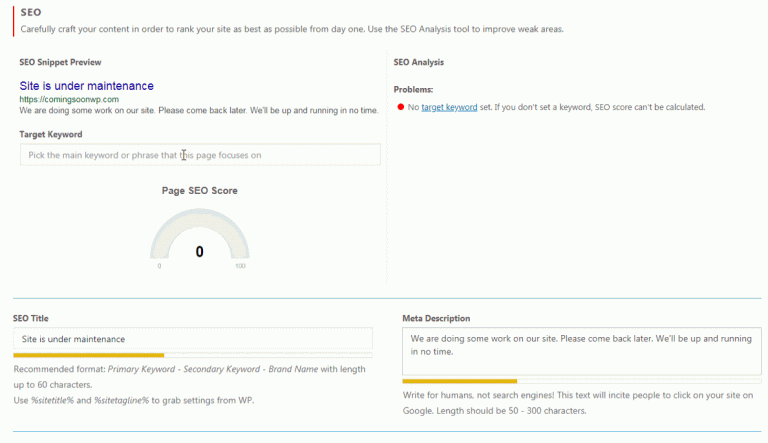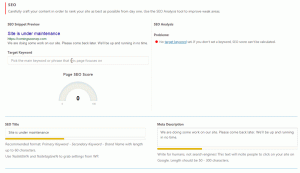 The SEO analysis tool runs over 20 tests. It will give you actionable advice with easy instructions to improve weak areas. It will tell you, for example, that your target keyword does not appear in your meta-description and various other places. It will also show your good results and give your page a total SEO score.
Another useful SEO feature is an SEO snippet preview so you can see how your site looks in the search engines. You can also preview the site on social media and monitor your website performance with a Google Analytics tracking I.D.
You can completely block search engines or to show the normal site to the search engines, even when you've enabled Coming Soon mode.
Other user-friendly features
The plugin has many design features. Users can customize page layout, logos, headers, content, maps, and videos. For the layout, you have ten modules, and you can change the order by dragging them. You choose from 47 content intro animations. For a header, you can select from over 700 Google fonts and choose any color you want.
Design your own subscription forms, social icons (choose from 400+ icons) and a countdown module. If you're doing an event or product launch, the countdown module is a must-have. You can change the date if necessary. A progress bar module gives you a great way to show your visitors how much has been completed.
Coming Soon supports your autoresponder, webinar and marketing software, CRM, and channels subscribers into them. Emailing services are also included. A built-in contact form gives you access to support agents if you have any problems.
Pricing
Single site owners can pay $69 once and own the plugin for a lifetime. Agencies and others who have more than one site pay $199 for an unlimited lifetime license. The most affordable package is to pay $19 a year to use the plugin only when you need it.
You are fully protected by a 100% risk-free guarantee and will have 100% of your money refunded after seven days of using the plugin if you don't like it, no questions asked.
This intuitive plugin has carefully considered features that will reduce your effort. It has a great user interface and offers many integrations and a beautiful page out-of-the-box.