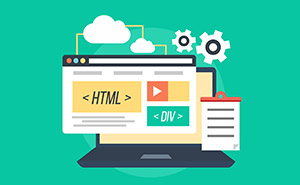 There is a popular saying that "First impression counts".
That is so true and in the online world, that is your website.
Whenever a visitor takes a look at a particular website, it takes him or her just a few seconds to make an opinion about it. In fact, it takes only 50 milliseconds in all. With that in mind, you have to make sure your visitors already like your website within 50 milliseconds.
Every well-designed website provides visitors something they need. Moreover, it gives enough incentive for those visitors to visit again. There are certain elements that define a good website.
Below is an infographic that showcase 6 key esssential principles to your your site from zero to hero.

Share this Image On Your Site
Here is more detail on the key elements that you have to take into consideration:
1. Good Web Design
According to a Stanford study, 75% of participants in the research stated that website design was one of the main criteria for judging a website's legitimacy and credibility. Northumbria and Sheffield Universities back this notion by saying that users make 94% of their first impression based on the design of a website. This shows that web design & development is an extremely important aspect for a site's success and must be taken seriously.
Users may base their decision about doing business with you on the aesthetics of your website. According to Adobe.com, 38% of visitors stop engaging when a website is unattractive. An appealing web design will encourage your visitors to spend more time browsing it.
So how can you create eye-catching web design? Here are some tips we gathered from surveys and studies:
When designing your web pages, you must make sure that you remain consistent with the layout, banner, navigation, typefaces, and colors.
2. Easy Structure and Simple Navigation
After reaching your website, 50% of your visitors will start to orient themselves and use your navigation menu. According to KoMarketing, it's essential to use standard navigational elements. You have to make sure that your visitors know exactly where they want to go and how to get there. Here are some ways you can do this:
Create a sitemap.
Provide an easy path to other web pages.
Link the logo to the homepage.
Add a search bar or navigation bar.
Highlight important parts of the web page to attract attention.
Include links to the contact form, FAQs, site info, blogs, etc.
In a web usability report presented by Huff Industrial, it was found that 37% of users leave a website with poor navigation system.
As a part of your visitors' user experience, you have to make sure that your website's buttons are recognizable. Put the name of the function of every button on the button itself, so people will know what it's for. If possible, make it stand out with big and bold text for visibility. Also, make sure that important buttons are big enough to be seen.
3. High-Quality Content
The content is the meat of your website and is arguably the most important part. You must always provide fresh and relevant content that is easy to read.
According to Key Difference Media, 78% of users believe that websites with custom content are more reliable that those with generic content. This is because they're more likely to think that the former cares more about their time.
There's no doubt that concise, thorough, and structured content is one of the major components of an effective website. Here are some guidelines for creating high-quality web content:
A study by Chartbeat shows that 55% of web page views only get about 15 seconds of attention. You have this much time to capture your visitor's attention and convince them to stay.
You have to make sure that you choose the right placement for your content. The font should be big enough to be seen. Use 1.5 spacing, so the text won't look so cramped.
Optimize your content for SEO. While this won't really affect how your visitors perceive your content, it's still a part of your overall digital marketing strategy, and a very important part of your site's success.
Hubspot, a content marketing specialist site, says that content marketing can generate 3x as many leads as traditional outbound marketing. However, it costs about 62% less. It's an investment you want to make.
Content that uses bullet lists can engage 15% more users as it is easier to read. Whenever you can, use headings, subheadings, numbering, bullets, etc.
It has been found that 72% of marketers believe that branded content is better than magazine advertisements. Use your brand to stand out from your competitors. Talk directly to your target audience.
According to Unbounce, infographics nowadays are 800% more in demand compared to the past years. If you don't have a graphic designer, you might want to hire one.
Brafton states that adding relevant call-to-action buttons on your web page can increase revenue by 83% in a month.
Though it's true that trends are shifting towards creating moments instead of creating long content, providing rich and informative articles remains an effective strategy.
4. Functionality and User Experience
User experience refers to the ease of use of website functions. In order to provide a good user experience, you need to make sure that your website is easy to navigate and functional. You can work together with your developer to make your site user-friendly.
Understanding how a UX design can dramatically change your website's standing in the virtual world is critical. If you haven't learned how to adapt to the latest trends yet, you may need clarification of hard facts and updated reviews of the digital environment. Here are things you should know about it:
According to VisionCritical, customer experience is the best branding feature you can add in a website.
Econsultancy adds that 95% of users say that good user experience is the most important factor in a website.
With a well-designed interface, you can increase your conversion rate by 200% to 400%. Forrester says this is worth about $100 return for every dollar you've invested in your website's UX.
KoMarketing has submitted a report about web usability, and these are their findings:
About 7% of visitors check the products and services page before any other sections of the website.
64% of visitors want to see your contact information after scanning the homepage.
52% of visitors go to About Us page for more information about the company.
The company logo is a critical feature in a web page. About 36% of users click it to reach the homepage.
A functional website undergoes a cross-browser compatibility check. This is to ensure that your website is compatible with the most common browsers including Google Chrome, Firefox, Safari, Edge, and Opera.
If you are still not convinced about the importance of UX, take ESPN.com as an example. It has made a 35% increase in profit by just updating their design based on their users' feedback.
5. Mobile Responsiveness
According to comScore, mobile devices account for 2 of every 3 minutes of online surfing. Thus, it has become even more essential to create a mobile-friendly website. A mobile-friendly website is one that can function on a tablet or smartphone. These responsive websites can adjust to the pixel-width of screens they're being viewed on. Thus, they provide the same user experience as websites shown on desktops.
Here are important statistics about mobile responsiveness that will convince you to put more attention to it:
According to IPSOS, 90% of users visit the same website using different devices.
Global Mobile Report says that they spend 61% of their time on the mobile rather than on the desktop.
Vendasta reports that 61% of consumers make a better opinion of a website if it provides a good mobile experience.
According to Skillcrush, 40% of users choose a different search result if the website isn't mobile-responsive.
MarginMedia reveals that 52% of users think that the business is not caring enough if their website is not working on mobile phones.
Econsultancy backs up the previous notion by revealing that 68% of companies with mobile-friendly websites have witnessed an increase in sales.
Google has also shared their data points with regards to mobile responsiveness. Here are some of their findings:
74% of users visit a website again if it's optimized for mobile usage.
40% of online transactions happen via mobile.
50% of searches are made via mobile phones.
Superior mobile experience converts more than 90% of web visitors.
What all these say is that your website can suffer if it's not mobile-responsive. Your search engine rankings may not be as good as you want it to be. Moreover, you'll end up compromising your website's user experience and loading time.
6. Site Speed
When a website loads slowly, not only is it annoying visitors but it's also negatively affecting your search engine results' page ranking. Google takes into account the website's load speed in the ranking. If your server takes three seconds or more to respond, Google will reduce the number of crawlers visiting it.
According to Adobe, slow loading time for pictures alone can lead to 39% of lost engagement. Conversion rate will also decrease by 7%. Ultimately, this results to about $2.6 billion in annual lost sales, as stated by Econsultancy.
So how can you improve your website's speed?
Host static files in a cloud with CDN
Install a Google PageSpeed on the server
Optimize images
Use a faster web hosting server
Use caching
Switch off all plugins not used
Compress the website with gzip
Conclusion
There is more to a great website than just aesthetics as illustrated above.
Here at Novage, we built websites that not only look good but also consider other principles to help you build a great and functional website for your business needs.
Contact us today to see how we can help transform your website from average to great today!